If you're the owner of a small independent cleaning company, you may be ecstatic after having landed a huge new account. However, sending a cleaning crew that's used to working on small to moderately sized residences to a large commercial building can result in inefficiencies that can cost you money (or require you to raise your rates for your newest client). What can you do to improve the speed with which your workers perform their tasks without compromising quality? Read on to learn about some products and tricks that can help your crew get your newest client's building spic and span much more quickly than expected.
Invest in Walk-behind Floor Sweepers
For businesses that plan to keep growing, an investment in walk-behind floor sweepers or scrubbers can be a wise one, as these will allow a single crew member to sweep and sanitize a large floor in a fraction of the time it would take your full crew to perform the task by hand.
While a commercial-quality walk-behind floor sweeper can be pricey, you'll be able to depreciate this purchase as a capital asset over time, lessening your tax burden and allowing you to recycle more profits back into your business. You'll also be well poised to take on more (and larger) clients now that your business has the muscle to tackle cleaning jobs both large and small.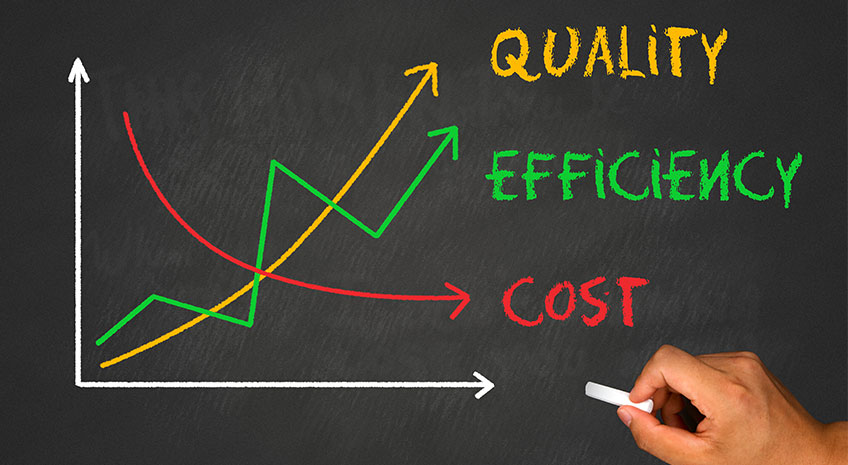 Develop a cleaning plan
When cleaning relatively small spaces, having a plan mapped out before you arrive isn't crucial — your crew should be able to tackle all visible dirt and messes without spending too much time on any one area, and a cursory look over the room as you exit should turn up any overlooked areas.
However, cleaning a larger commercial building requires a careful plan of attack. You may want to visit this building during normal operating hours just to get a look at the layout and high-traffic areas so that you can have a better idea of where you'll need to focus your cleaning efforts upon arrival. Alternatively, you may want to speak to the business or building owner to see what he or she views as problem areas in need of extra attention. By engaging in these outreach and planning efforts, you'll begin building a reputation as a conscientious business owner who cares about client satisfaction.
Hire more part-time workers
If you're currently operating with a skeleton crew and are reluctant to pick up any more full-time employees, you may want to consider keeping some part-time contractors on staff for larger jobs. Many employees don't desire full-time work or would enjoy a job with minimal (and flexible) hours, making intermittent overnight cleaning gigs a good fit. By bringing in these workers for your biggest and toughest jobs, you'll be able to finish faster without incurring much in additional payroll expenses.