Boxing Day is the traditional day of recovery after the stresses and strains of the Christmas Day rush, especially if you've been cooking and cleaning for it. A time when you can relax because the Same Day Courier Birmingham that you found at allaboutfreight.co.uk/same-day-courier-service got all of your presents delivered on time. But, as you contemplate yet another day of bubble and squeak and turkey sandwiches, you might be wondering why at this time of "peace on earth and goodwill" we've decided to name the day following Christmas after a sport that involves people hitting each other. There have been many ideas behind the origin of the name but to stop any more arguments here is the reason why it is called Boxing day and where it originally came from.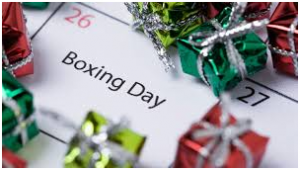 First of all, it has nothing to do with the sport of Boxing and the 26th was not always a Bank Holiday. In fact, it was only made one in 1871 for England, Wales and Northern Ireland and even then, Scotland didn't get it until 1974 (however, they do get the 2nd January off as New Years is a bigger event here). It was traditionally the first working day back after Christmas and it is one of the many reasons why we give out our gifts and presents on Christmas Day.  Before it became a bank Holiday it was a tradition for trade's people to receive a box of gifts or money for all their hard work and services throughout the year. Much like leaving a thank you gift for your postman or milkman. Also, the servants and gardening staff all received a box for their work from the Master of the house and this was taken home on the evening of the 26th for the family to enjoy. Back then the religious day was the 25th and the 'funday' was Boxing Day. Staff member was expected to wait on the family on Christmas Day, but they were given the day off on the 26th to visit their own family and friends with their boxes as thanks for giving up the 25th to work.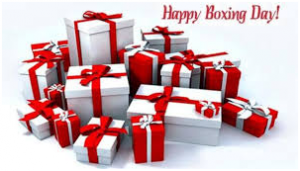 Further back in history it is thought that this day might relate to the Middle Ages custom of distributing the Alms box from the big Christmas attendances and the 26th is also the day of the feast of St Stephen where it was a tradition to share food and celebrate goodwill amongst others in your village or town.